The Wescoe Community Fund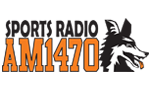 will be on the radio tomorrow morning with Keith Groller: Calling All Sports on www.fox1470.com!
 A Fox station and the Lehigh Valley home for Phillies baseball.
If you have a few minutes…tune in!
Thank you to Keith Groller and Jason Brader (FASST) for all of your support in raising awareness for IPF!